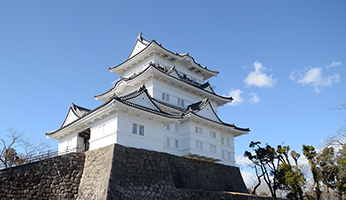 Odawara Castle Tower
【Odawara Castle castle tower】
The Tenshukaku is a symbol of Odawara City, which was revived as a city-based 20th anniversary project in 1975.
The appearance of the Edo period was restored in 1955 based on the patterns and drawings (models and drawings made during the reconstruction of the Hoei era) built during the Edo period, and the interior is an exhibition facility for historical data. It has become.
【Odawara Castle History Museum (NINJA Hall)】
Learn the Wind Magic Ninja! Experience! Experience!
With a fuman ninja who is said to have supported Mr. Hojo of the Warring States period as a motif, you can experience fresh experiences.
【Tokiwa Kimamo SAMURAI Building】
The exhibition focuses on armor such as armor and swords, and introduces the spirituality of the samurai and the artistic nature of the armor.